Roof cleaning is a really important, but often overlooked part of home maintenance. Because it is difficult to access, many people neglect to maintain their roof even if there are needed repairs. Even fewer people make the effort to proactively keep their roof clean. Consistent roof cleaning, however, can significantly increase the lifespan of your roof and save you lots of money in the long run. Below are three things that our professional roof cleaners at Kleen llc in the Grand Rapids area recommend that you know about roof cleaning.
DIY Roof Cleaning is not an easy Task
If you decide to do the roof cleaning yourself you should be aware of the immediate danger of being on the roof. Homeowners would need to walk the whole roof to be able to apply inferior store bought products to the shingles. Furthermore, cleaning your roof is not a quick process. You can play on devoting an entire afternoon to it if you choose to go the DIY route. In essence, DIY roof cleaning is something you can do, but you should be well aware of the risks and investments in time and money.
Roof Algae can cause damage to the shingles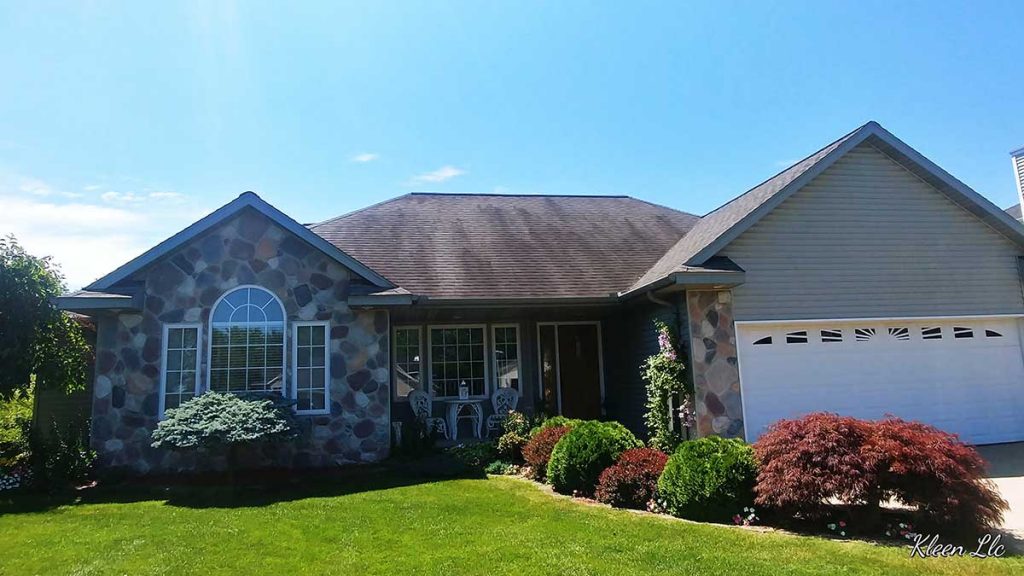 Algae on your roof  certainly is unappealing. However, there are even more downsides to it than that. Roof algae is a living organism (Gloeocapsa magma) that feeds off of your shingles. If it is not taken care of in a timely fashion roof algae will consume years off of the life of your roof. Other effects of a weakened roof caused by algae include higher AC bills as your shingles will be less capable of blocking UV rays along with thousands of dollars in avoidable roof repair or replacement costs.
Algae can be on the whole roof, not just the dark spots you see
In its earliest stages of development, algae are completely invisible. So even if part of your roof appears to be okay, chances are that it is being attacked by the algae. Because algae are difficult to detect at first, a common mistake many homeowners make is only wanting to spot-clean their roof. Thus, it is always a good idea to have your roof completely cleaned and not spot cleaned.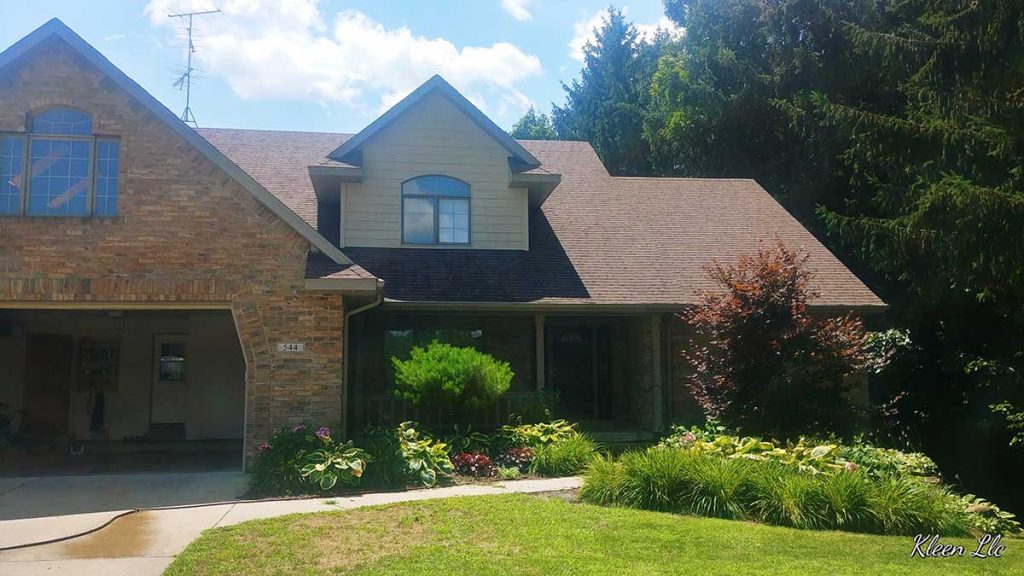 All in all, roof cleaning is a difficult and often overlooked aspect of home maintenance. Don't let yourself make the same mistake and underestimate the dangers of roof algae as many other homeowners do. The best way for you to do this is to get in contact with a professional roof cleaning company that uses a soft wash process that is safe for your roof. so they can be there for you to keep your roof consistently clean. In West Michigan, we at Kleen llc are one such company that is here for you, available for all your roof cleaning needs.