Awning Cleaning Grand Rapids MI
Kleen provides professional awning and canopy cleaning and maintenance services to residential and commercial properties in Western Michigan. Regular awning cleaning and sealing will keep your awning or canopy looking great for years!
The build up of dirt, mold, and pollutants on the awning will not only give it a very dirty look, but it will lead to early failure of the fabric.
The awning on the outside of a business is there to not only protect the customer from the elements, but more importantly they are there to catch the eye of potential customers. If the awnings are dirty, or covered in mold, that gives off a first impression that will keep customers away.
Kleen uses only soft wash methods to clean. We do not use a pressure washer to clean your awning. Doing so can damage the fabric. We have low pressure pumps we use to supply the water needed to wash your awning. We apply the cleaning solution, then use soft brushes to hand scrub the awning, and rinse with our low pressure pumps. Then, depending on the type of awning it is, we will apply a protective sealant or waterproofer.
Dress to Impress. The purpose of awnings include providing store-front shelters, signage, and mostly aesthetics. Awnings are commonly used to dress up the exterior appearance of a business. Often times, the exterior of your business is what forms the first impressions of potential customers. A dirty awning will leave a negative first impression and can turn people away. The cost of keeping your awnings clean is low compared to the cost of losing customers.
For more information on our awning cleaning services, contact us today at (616) 914-9064.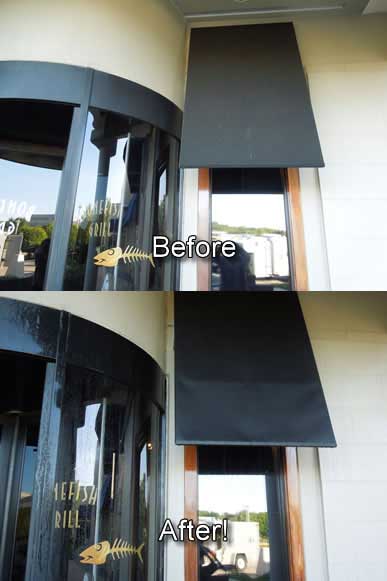 They are awesome! Professional, polite and do great work! My home looks amazing. Highly Recommend!!!!!
Primary Communities Served
Ada
Allendale
Belmont
Caledonia
Cannonsburg
Cascade
Cedar Springs
Comstock Park
Coopersville
Cutlerville
Dutton
East Grand Rapids
Forest Hills
Grand Haven
Grand Rapids
Grandville
Holland
Hudsonville
Jenison
Kentwood
Lowell
Marne
Rockford
Spring Lake
Walker
Wayland
Wyoming