Gutter Cleaning Service Grand Rapids MI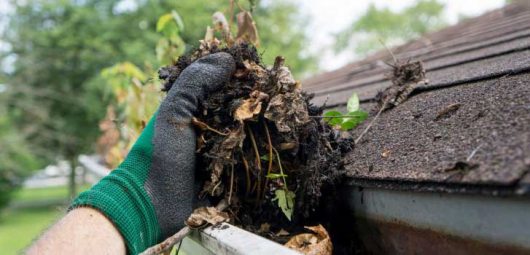 Having your gutters cleaned is one of the best ways to prevent water damage and potential flooding in your basement.
When the leaves start to fall off the trees in your yard, many of them end up in your gutters and downspouts. Some of the leaves may flow down with the rainwater through your gutter system. Most of the time, leaves, twigs, pine needles, and other debris will collect in the gutter and sit there.
If you notice weeds or trees growing out the top of your gutters, or water pouring over the sides of your gutters, you know it's time to call the experts at Kleen. Don't worry—we'll get things flowing again without you needing to step foot on a precarious ladder!
To schedule gutter cleaning in Grand Rapids, Rockford, or the surrounding areas, please contact Kleen today!
Our Gutter Cleaning is a 3 Step Process:
The first step in our process is to hand clean the gutters, collecting all the debris and bagging it.
The second step is a thorough rinsing of the gutters.
The final step is to ensure that the downspouts are unclogged and flowing properly.
The crew members at Kleen are experts at cleaning gutters and downspouts. Rely on us, and you're taking advantage of a company that really cares!
Benefits of Professional Gutter Cleaning Services:
Some homeowners ignore their clogged gutters, but they soon regret this decision. Consider the advantages of choosing Kleen to clean your gutters:
Protect your home's structure: Clogged gutters can damage your roof, siding, and foundation. Water overflowing from the gutters can cause ice dams in the winter, cause the facia board to rot, and may also cause water damage in the basement. Standing water in your gutters also attracts pests, including mosquitoes, birds, and rodents that you don't want living on your property.
Avoid costly gutter repairs: The gutters themselves can also be damaged if you don't clean them. The weight of all that debris, plus the standing water that can't drain away, sometimes tears gutters off the house. This is unsightly and leads to even more structural damage, requiring an immediate repair. Of course, repair work only adds to your costs.
Avoid possible injury: Gutter cleaning can be dangerous and time consuming. Ladder related accidents injure thousands of homeowners each year, so let the professionals at Kleen take the hassle away and provide you with clean free flowing gutters.
Choose Kleen for Gutter Cleaning Services in the Greater Grand Rapids Area!
Kleen is here to help protect your home from the damage caused by clogged gutters. We are proud to be helping homeowners in the Greater Grand Rapids area, with experience dating back to 2008. We are dedicated to providing our customers the best service, and the cleanest gutters!
They are awesome! Professional, polite and do great work! My home looks amazing. Highly Recommend!!!!!
Primary Communities Served
Ada
Allendale
Belmont
Caledonia
Cannonsburg
Cascade
Cedar Springs
Comstock Park
Coopersville
Cutlerville
Dutton
East Grand Rapids
Forest Hills
Grand Haven
Grand Rapids
Grandville
Holland
Hudsonville
Jenison
Kentwood
Lowell
Marne
Rockford
Spring Lake
Walker
Wayland
Wyoming