Power Washing Services Grand Rapids MI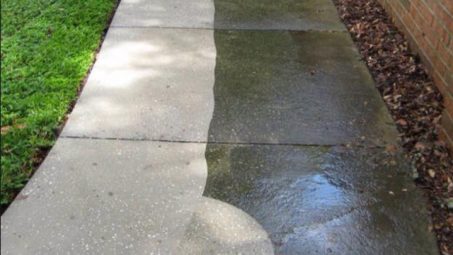 A dirty storefront or entryway to your business can unknowingly be shaping your customers' perception for the worse.
In addition to the build-up of dirt and dust, sidewalks are constantly subject to staining by spilled soda, coffee, melting ice cream, leaking garbage cans, foot traffic, and gum. The longer these stains are allowed to sit there, the more difficult they will be to remove later. If allowed to sit and penetrate the surface area for too long, eventually your only option will be very costly sidewalk replacement. Typical walkway replacement can be in excess of fifty times the cost of pressure washing.
Routine power washing services help maintain a clean appearance of your shopping center, hotel entryway, restaurant, office building, or storefront. Kleen power washing services offer an affordable and convenient way to keep up a clean and uniform appearance of your property's walkways and storefronts.
Sidewalk cleaning services can be scheduled for any day of the week, day or night. Our scheduling flexibility avoids interfering with any nearby foot traffic. Our experienced crews know to protect against any water penetration under doorways, rinse off common back splash that occurs near your windows and walls, and are capable of transporting their own water supply if required.
Your home's driveway is usually the area of the home that is often forgotten but is one of the first things seen by anyone approaching your home. Left untouched, driveways and walkways can become very unsightly! A brand new concrete driveway or walkway can be gorgeous and put the finishing touches on your beautiful home and landscaping. However, over time you'll see dirt, weeds, oil and other elements build up, and instead of adding to the beauty of your home, it is detracting from it which decreases your home's value.
Give us a call today at (616) 914-9064 or send us an email at kleen@inbox.com for more information on our quality power washing services.
Amazing customer service! These people went above and beyond the call of duty. I had a raccoon in my garage all night and woke up to a mess! They came that day and power washed/disinfected entire garage. Did an excellent job cleaning my roof too. I wouldn't ever call anyone else. Top notch!
Primary Communities Served
Ada
Allendale
Belmont
Caledonia
Cannonsburg
Cascade
Cedar Springs
Comstock Park
Coopersville
Cutlerville
Dutton
East Grand Rapids
Forest Hills
Grand Haven
Grand Rapids
Grandville
Holland
Hudsonville
Jenison
Kentwood
Lowell
Marne
Rockford
Spring Lake
Walker
Wayland
Wyoming