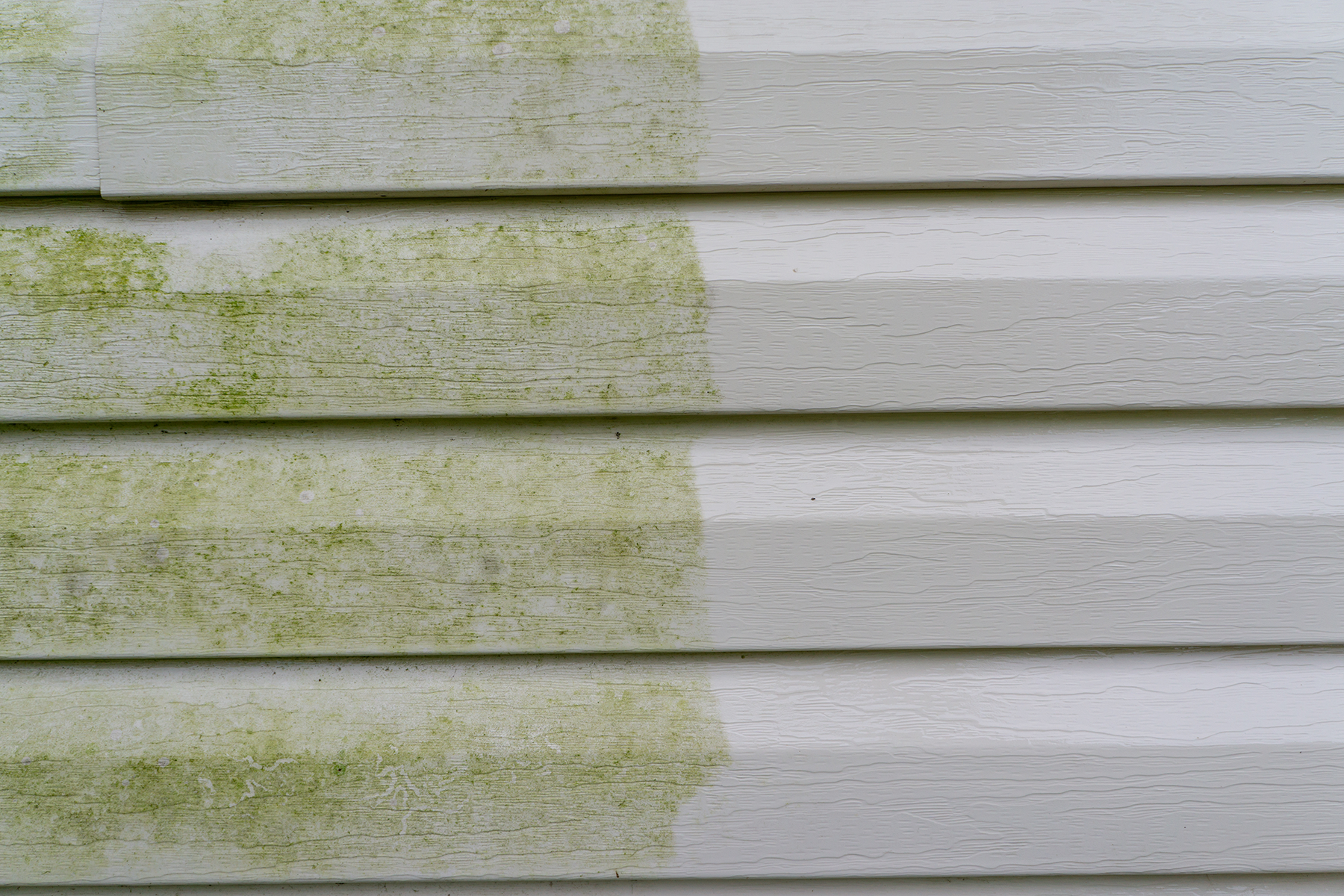 What does the exterior house washing process consist of at Kleen Roofs?
Exterior house washing consists of cleaning the exterior surfaces of your home – primarily your home's siding. The most popular type of siding is vinyl siding; although some homes have aluminum or wood sidings. No matter the type of siding you have, the same soft wash process is used. We never use a pressure washing system.
Over the years, we've soft washed many homes with siding that has been damaged from excessive pressure washing. Too much pressure washing can eventually lead to etching and dull your siding's finish. We recommend homeowners pressure wash their home's siding every two to three years if they insist on using this style of washing. Spacing out pressure washing will help maintain your siding's shine and keep dirt off the surface.
Our low-pressure, soft wash system is the safest option for the exterior of your home. One of the many benefits of soft washing is that it doesn't force water around your windows or underneath your siding. Water trapped in these areas can eventually lead to the growth of mold.
We exclusively use specialty cleaning solutions with our soft wash system. These cleaning agents provide a superior clean compared to pressure washing. We're able to let our solutions dwell on the surface for a period of time – long enough to break the bond that dirt and other contaminants have with the siding. Additionally, these cleaning agents kill any mold, mildew, or algae that may be present. The final step is to use a soft wash rinse to wash everything away.
When is it time for an exterior cleaning?
As with most exterior surfaces, it can be difficult to know when something has started to contaminate your siding. Typically, the first thing to settle on the exterior of your home is dust. This may not seem like a big deal, at first. But when dust accumulates on the siding of your home, it not only starts to make your home look dirty, it creates a breeding ground for algae to grow. Dust gives algae something to bond to. So even though you might not have seen dust on your siding, you'll know it's there once you start to see algae grow. At this point, it's definitely time to get your home's exterior professionally cleaned. Regular cleanings with your personal hose along with professional cleanings will keep algae growth at bay.
How long after getting new vinyl siding should you have it cleaned?
After getting new vinyl siding installed, it's best to have it cleaned about every two years. Depending on your surrounding environment and climate, you may want to get your siding cleaned sooner.
What to look for in an exterior cleaning company:
Whether or not the company offers soft washing or only pressure washing. Soft washing is highly recommended by vinyl siding manufacturers as pressure washing is known to damage vinyl siding. Over time, pressure washing can etch vinyl siding and dull its finish.
Make sure you hire a company that is insured.
Ask if they're able to remove irrigation rust – not every exterior cleaning company is able to. At Kleen Roofs, we use non-damaging chemicals along with soft washing to remove these unsightly orange rust stains.
A Kleen Roof Tip For Vinyl Siding:
Hose down your vinyl siding at least twice a year. This will help extend the life of your home's exterior and keep it cleaner for longer. Neglecting to wash your siding in any way will lead to a buildup of dust – and where there's dust on an exterior surface, there will eventually be algae. Ward off algae by hosing down your siding in between professional cleanings.
We hope you learned something new from this blog post. One key takeaway is that professional soft washing will significantly extend the life of your home's exterior – we guarantee it! Stay tuned for our next post about getting your home ready for the winter season!